Paddleboarding is an activity that has become very popular these days. As well as, it becomes one of the best water creations activity worldwide. There is a no better choice to see the god creation of wonders than from the crystal blue clean ocean on a stand-up paddleboard precisely when it's closed by brassica, bushes, snow-covered mountains, beautiful sky, and artifacts.
Apart from, stand up paddleboards (SUP) offers you an exciting and thrilling fun on the surface of the water. That's not enough you can do a lot of exciting things with the SUP. For instance, you can practice yoga or fitness exercises that treat your body well, even on the first attempt, and reduces your stress level. You can go surfing, fishing, snorkeling, racing and romantic date with your partner. Besides these, you can do so many other things on one. And if you can avail of all of these things from doing a single activity, you should probably try this one out.
Peoples around the globe, engaging themself to be a part of this activity. Even some famous personalities predict that it will be an Olympic sport. Moreover, in 2019 ICF claimed that SUP athletes could also compete in a world championship. According to the report, Paddleboarding getting increases every year and grasping the attention of people from all over the world no matter at what age a person belongs.
-If you are searching for the best places in the world to try Paddleboarding, then you are the right place
After a complete dept analysis and reviews of paddleboarders, we gather the best suitable places to do Paddleboarding for you guys. Here are the top ten destinations to paddleboard in the world:
In Hawaii, you will find out different charming beaches, but sunset beach is one of the most popular beaches of Hawaii, and honestly, it's worth visiting. Sunset beach located on the north shore of Oahu in Hawaii and usually renown by its Paddleboarding in the summer season and surfing mostly in winter. SUP is ideally for the summer season in Hawaii because it observed that the waves of the ocean are mild, which is best for the Paddleboarding.
Without a doubt, Hawaii is the birthplace of stand up Paddleboarding, so the whole process of Paddleboarding is not such complex if you don't have a paddleboard, you can also rent it from there such a reasonable price. Sunset beach is a fantastic destination to spend your whole day with your family or loved ones.
This beach located outside Haleiwa Town, so if you feel hungry, there are many famous food chain trucks available. For instance, the famous Seven Bother food truck is there from there you can get burgers and cheesy fries, and Crispy Grintz is also over there, renowned for Brazilian food. So many others that will, for sure, make your fantastic day and a delightful day.
Nearby, Waimea bays its located, which is four miles away you can also paddle there. And especially for beginners in Haleiwa, a famous Puaena spot is located where a beginner can comfortably ride over the calm waves on flat water.
2. Colorado River, Arizona
Colorado River is a dream destination for adventure and makes you stop from long routes trips. Because there are four fantastic adventure parks nearby where you can do Paddleboarding, hiking, surfing, and other water or outdoor activities, it will make your vacations or trip memorable.
According to the research of journal science, The Colorado river now becomes the lifeline of the southwest. The tourist enjoys the last changes of weather there and mainly spent their vacation in Colorado River. The Colorado River is famous for paddle boarding because of its mountainous view. The trippers loved to do Paddleboarding at such a place where your both hands are covered with mountains, and there are some narrow ways which will make you reach the center of this 1,450 miles long river.

The tourist wants to visit this fascinating place during the snowfall season when all the mountain becomes white with heavily covered snow. It gives you the seam of heaven, and as the changes occur in the weather and snow started melted into the river. The drops of water are showering onto the paddleboarders, and they feel delightful and thankful to God for his elegant beauty. As it reported that it is the bad news for the paddleboarder that the flow of the river will be drop to 19 to 31 percent if the carbon emission continues there at the same place.
Paradise Island is one of the most popular places, the priority of tourists in Indonesia. And whatever a tourist wants in their tour to make it a remarkable one, everything is readily available in this steamy Island. There are so many water activities which you can do in Bali. Like, scuba diving, it is one of the most popular water activities you can do in Bali, surfing, wakeboarding, parasailing, and many others.
But, if you are in Bali and you haven't try Paddleboarding yet, it's going to be a significant loss. Paddleboarding is not just a water activity, but it is also a great exercise to keep you maintain your body strength and make your mind relax on a cold breeze ocean. Bali's waves are so calm that you can even throw yourself with waves and do some yoga on boards. You can easily rent the board there for your fantastic vacation plan.
The Island Bali of Indonesia is well known for so many good things. Crystal Blue Ocean, nightlife in clubs, temples, and different attractive spots that almost attracts all of the travelers to visit this iconic destination. Whether it once in a lifetime or for a few days, the place will surely make vacations best among them all.
Bali is Indonesia's most visited destination, with an increasing rise in the rate of tourism. And Bali generated 80% of the income through this tourism. Their beautiful marine or water life attracts tourists.
4. Santa Cruz, California
When we talk about Paddleboarding, we can't forget the name of Santa Cruz in Northern California. The spatiality and ionic fact about Santa Cruz are that the water of its lake always remains icy or frosty, and because of that, the paddleboarder needs to wear wet suits. In California, there's a Santa Cruz park that entitled to historical landmarks of the country.
Near Santa Cruz, there are so many other parks located which tourist likes to visit. Like, Twin Lakes States Beach, Lighthouse Field State Beach, Sea Bright State Beach, and Natural Bridges State Beach. While Natural Bridges State Beach, located on the Northern side of Santa Cruz. It's famous for marine and water life activities.
The paddleboarders in Santa Cruz, fortunately, get the chance to see the whale in the sea because of the whales and other water animals. There are different spots for the guidance of paddleboarders to aware of that danger. There is a famous lane so-called steamer lane, which provides you the Paddleboarding according to your satisfaction. In short, they serve you all the joys of Paddleboarding from beginners to the advanced level, which makes this ocean different.
A maverick is a point in Santa Cruz, where occurs the mighty big wave of water and paddle boarders gathered there, and here starts the massive contest between the Paddleboarders. The height of these mighty waves recorded as 60 meters up from the water level.
5. Island Of The Caribbean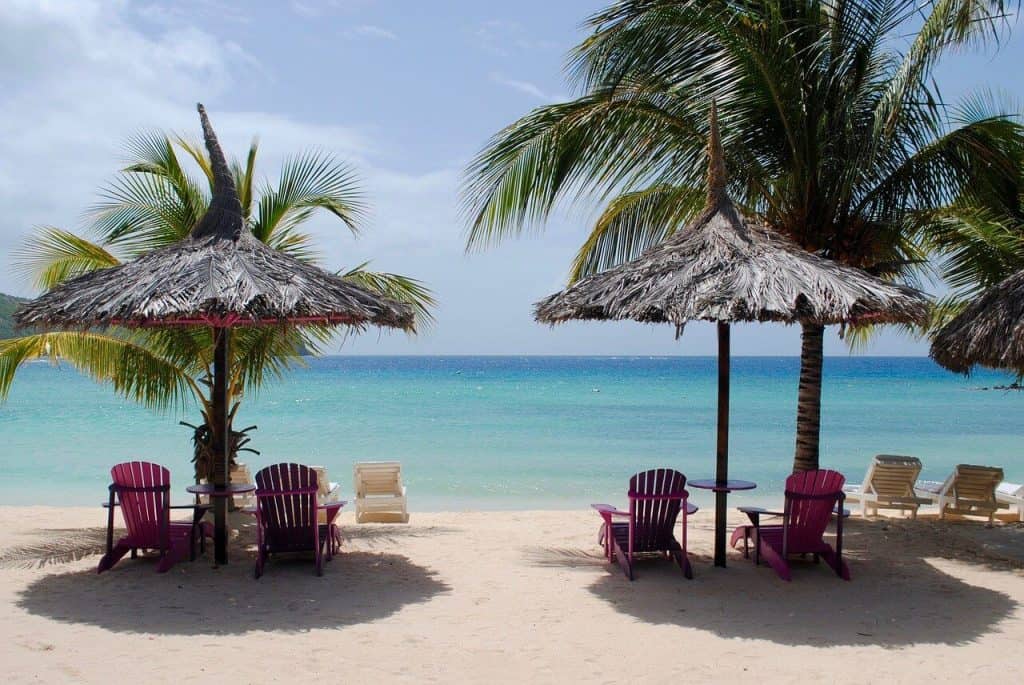 We all want our vacations a memorable one and the most excited one than the before. We find that place which gives you the pleasure of heaven and exactly especially for the paddle boarders. This place is not less than heaven because of its open area, and the sun shines on the water like the glitter that really makes your mood to do paddleboard here and not to go anywhere. This Island's water is so pure that all the marine life and animals can be easily seen by the person how to do paddleboard here. The color or shade of this unique ocean is some like greenish-blue and is see-through because of its light shade.
There are more than 7000 islands, but the uniqueness and the most pleasing of that Island is its clean, green, and healthy environment because of which peoples dream is to go there and do paddleboard there.
The water of this Island always remains calms and changes its temperature under the sun's heat. Many Paddleboarders do yoga there because of its greenery to feel pleasant in the arms of this fascinating Island. As/ the water is much stagnant than the other Island, paddle boarders make a fast trip on their board.
The staff of the Caribbean provides you the classes for the paddleboard and can give you paddleboard in rent for your convenience and their trainers too. Till now, the total vote the Caribbean for the best place to do paddleboard here.  
Netherland also is known as Holland, located in Western Europe in the Caribbean. Netherland is considered one of the lowest-lying countries in the world. But, the country is with massive canals, lakes, and rivers. Moreover, the Netherlands' climate is God gifted that whole year tourists can visit this country, whether it is winter or summer. Although this country comprises of 12 provinces in which Amsterdam is the most popular and famous city.
Instead of these Netherlands canal, rivers and lakes offer fantastic Paddleboarding for their tourist. The only problem is you can use a single paddleboard in summers rather than winter. In winter, lakes are in freezing conditions, so this season gives some rest to your paddleboards. But in summer, the sea refreshes you with red, pink, and blue tulip a bloom which attracts the paddleboarders to board in this country.
There are so many best hot spots that you can quickly go if you are in the Netherlands. For instance, Amsterdam, the Amsteel River, Ijsselmeer, and Utrecht. These are the Netherlands' best cities for paddle boarding just to enjoy the perfect water and natural life. While Utrecht is also a great city of Netherlands, it gives a unique touch to the traveler in paddle boarding as the canal linked along with the two streets and a unique wharf basement. That attracts a lot of travelers to paddleboard there to experience a beautiful and change look from the water.
Banff is a town of Alberta located in Canada. Banff is a resorted city which has specially designed for the tourist. Albert is the city, where there are numbers of remarkable parks are present, there is a wide range of trilling lakes from that place light blue color to dark greenish-blue, but the most famous among all there parks is The Banff National Park. The Banff is mainly the destination of the Paddleboarders. The color of this new lake is turquoise.
If anyone wants to do a paddleboard, there is no better place except Banff, Alberta, because of its natural beauty, and the paddleboarders feel the joy of heaven while boarding and its color can see the freshness and purity of the water of shades. Banff's spatiality is that, if you want to do paddleboard with your dog, they will provide you, classes, for the joy of your dog.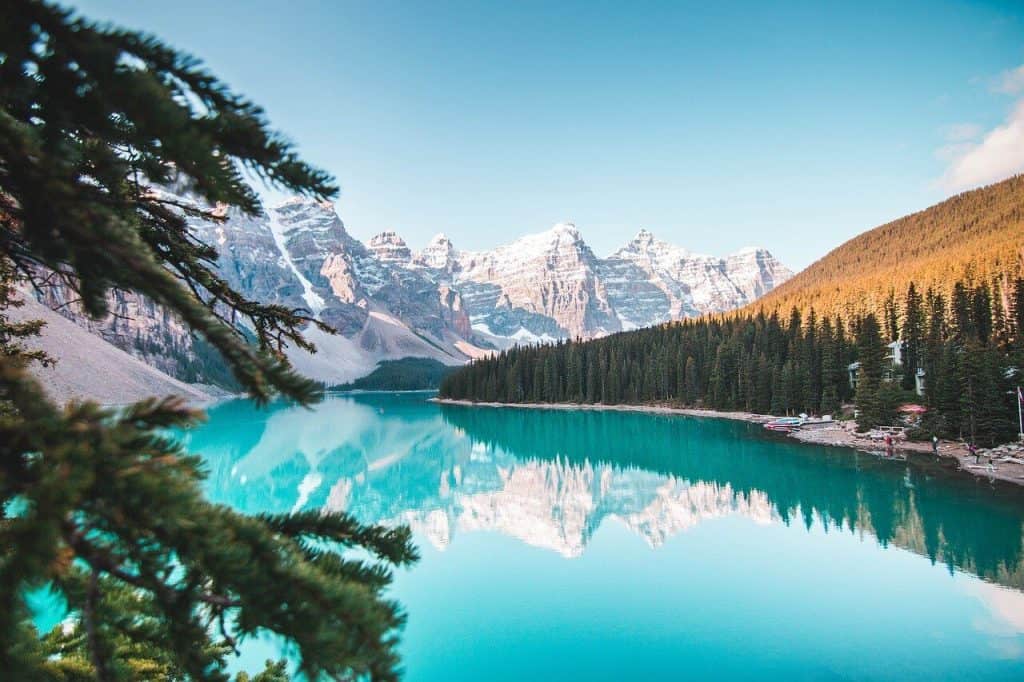 As the temperature of the Banff country, many lakes become so cold that it freezes the whole lake. This lake is not suggested as the best in the winter season because of its high temperature because paddle boarders can't do their boarding in the icy lake. The best and the most precious time for the tourist to do paddleboarding is the summer season or spring season when the sun is on its peak, and the cold water touches your body, you will be amazed for this creature of God, if you goanna visits this fantasy lake. The best months that I suggest my readers do paddleboard here are mainly June, July, and August.
When there is the talk of paddleboarding, how can we miss the name of Italy? The country has over 150+ canals. Italy has originated as the city of tourists. The largest among these all channels and the most famous for its look is The Grand Canal, the main waterway of Venice. It is 3km long and 30 – 70 meters wide, and because of its vast size, paddle boarders prefer to do paddling in Grand Canal.
If you are going to Italy for Paddleboarding, I would suggest you go to the Venice Canal. The beauty of Venice Canal is its beauty and calmness of the canal, the voices of birds and regular at the time of sunset all the birds drink water from this canal, and paddle boarders look this view.
There are vast numbers of canals where we can do paddling boarding, but the top voted canals for paddle boarding are Giudecca Canal, Muzza Canal, Navigli, Navecelli Channel.
One of the best locations for paddleboarding with a family in Italy is River Arno because of its calm water, and there is no danger. You can quickly learn here how to do stand up paddleboarding with different and unique techniques .the environment of Italy make your mood to do paddleboard here. When we talk about the cheapest and low-rate paddle boarding in the world, then we always choose Italy for its low budget of paddleboarding for the convenience of the paddle boarders.
Thailand is a Southeast Asian country. You are widely known for its hot steamy beaches, Buddha's temple, noble palaces, foods, and many other things. It stated that Thailand is one of the world's most beautiful countries that can't even compare with any other country. Further, stand up Paddleboarding is the best activity you can do in Thailand to enjoy your trip.
Bang Tao Beach is one of the best destinations in turkey .where, you can use paddleboard in warm and clear calm water and known as the best Island of Phuket. This place is recommended mostly to beginners because the water of this land is easy to practice Paddleboarding.
There's another famous beach in Thailand known as Patang Beach, this beach crowded with different café and high lifestyle of restaurant which attracts the travelers to paddleboard on this beach. Sairee beach is also located and is famous as it is the longest beach in Thailand. Travelers prefer this Island, whether for Paddleboarding, long walks, swimming, and scuba diving. Railay beach is also a famous place in Thailand that makes your trip a worthy one for sure! This beautiful beach is surrounded by a brilliant blue crystal ocean, for its green nature, forest, and monkeys. You can also enjoy different festivals, restaurants, and nightlife in a club in this city.
Well, Thailand is the bested choice to paddleboard in a dramatic and fantastic landscape. Thailand also offers rental paddleboards, gives lessons regarding Paddleboarding, and helps you in your tours. That you can avail if you want someone who can guide you in all of your journeys in Thailand. And make a remarkable destination for your vacations with your family and friends.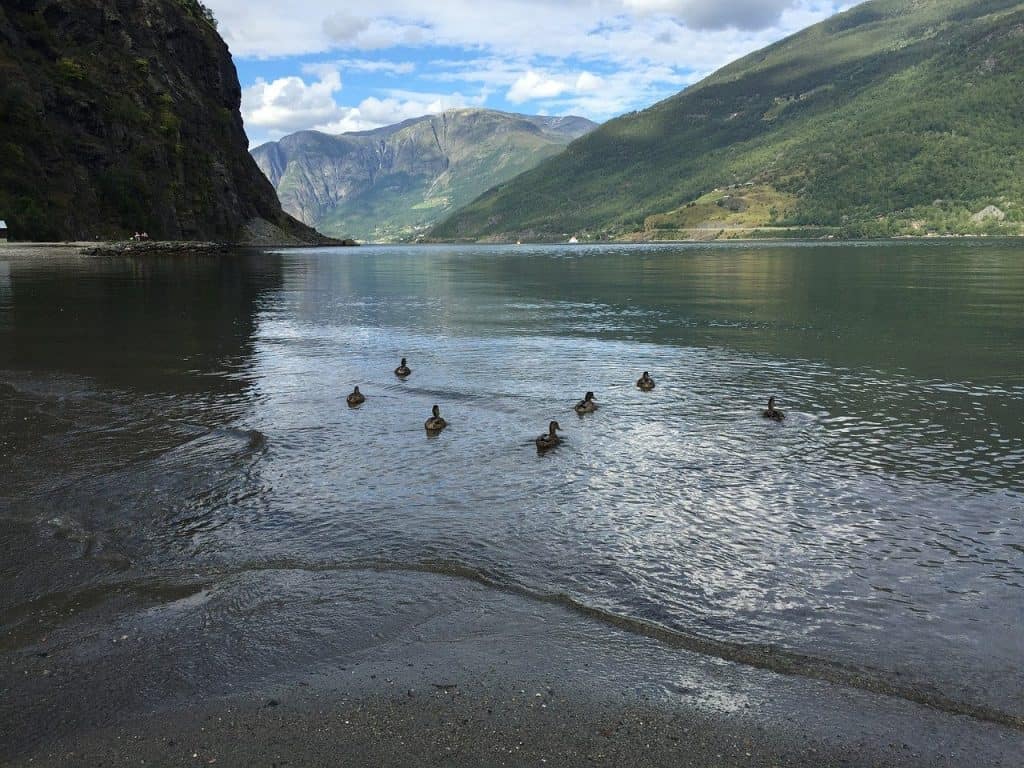 There are about 1,190 fjords in Norway. The brilliant sceneries of fjords in Norway are full of ice ages. In fjords Norway, you will find out everything from large cities to iconic islands. Fjords for Paddleboarding is such a beautiful place. The national geographic traveler magazine claims that this is the number one travel spot in a list of different countries around the globe. Snow-covered mountains, flat surface water, that highly recommended for the Paddleboarding. This place is a dream destination for paddleboard riders.
The Sognefjord located in the vested land, western Norway. One of The biggest as well as considerable Fjords in Norway. SUP in Sagnefjords will be such a fantastic experience you will ever have in your life. Ocean fully covered with beautiful landscapes, versatile mountains that enhance the beauty of the ocean more. You can even explore many other places you can't explore on vehicles but can easily traverse through the Paddleboarding.
Naerofjord, also located in the vested land, Norway, and it is the branch of Sognefjord. Naerofjord is one of the narrowest fjords of Norway. This fjord has recommended for these travelers whose interest in nature or God's creation. Like, a mountain full of hot steam, beautiful valleys, snowflakes, and rain and versatile crystal ocean. Even in a list prepared by UNESCO Naerofjord and Geirangerfjord is considered a popular tourist destination in the world. You can also explore farms in these Fjords.
Water sport activities like kayaking, scuba diving, snorkeling, and the most famous Paddleboarding, all these become the best activities among tourists. Through Paddleboarding, tourists can do a lot of activities. For instance, they can do yoga, exercises, fishing mining, and a lot of things that have mentioned above.
Paddleboarding also benefits a person in burning a lot of calories, boost vitamin D levels from paddling in the day time under the sun. Then the other sports, Paddleboarding, do all these things in an hour because it's a full-body workout and makes you physically fit and helps reduce the stress level and make you mentally fit.

In the destinations as mentioned earlier, you can also create communities and grouping system through that helps you in making new friends from different countries and make plans with them of your next trip for the following paddleboard destinations. And who knows, from that, you will find out the future soul mate of your life! Through friends, you can also learn new skills and a lesson about paddleboards which suits you the most you might to get to know it better. It has hence proven that 15 minutes a day, paddling helps your heart system to work better and healthy. It also enables you to explore the countries around the world and can quickly examine the world's best creation or water life through Paddleboarding. In the last, if you're a person that quickly gets bored, then trust me this sport will be for you because it can't get you tired and it is well worth it.